Sensikwal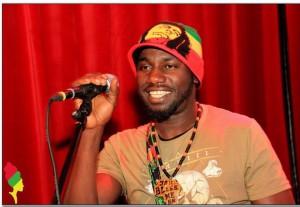 Biografie Sensikwal
Sensikwal, a.k.a. Omar Bah, is a Gambian singer, originally from Gambia. His music can be defined as passionate- feel good music that's about motivating and encouraging people to make the best of life. His motto is: be nice, it's nice to be nice.
He was raised in Manjai Kunda, his first musical experience was when he started playing the djembe, at the age of four. After playing at the naming ceremony of his little brother he became interested in traditional Gambian music. He still uses his djembe as an introduction to his performances and you feel the Gambian roots throughout his music.
In high school he started singing, after gaining experience through performances, he formed a music group named the sing sing2 – legacy, alongside Mighty Thala Bah (his younger brother), Majesty B and Dark Energy, together they performed throughout Gambia.
In 2006 Sensi moved to the Netherlands. During his study he released his first EP called Manjai Kunda. All money raised through this EP was donated to a youth association inGambia (the SYACDA).
Afterwards Sensikwal kept on performing at several prestigious venues like the Sugar factory, Patronaat, Schouwburg Almere, Kwaku and at several other festivals in and around Amsterdam.
Youtube pagina:
https://www.youtube.com/playlist?list=PL8YVn3HtTQ50105frpoqk9TNjrLwCgdLL